Cold Laminating ID Overlay - Security Holographic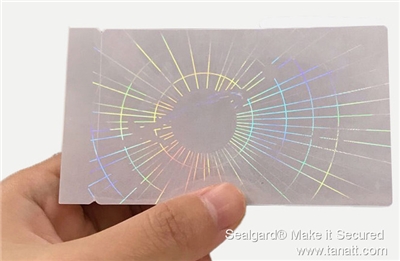 Transparent Hologram ID Overlay
TANATT® Transparent Hologram Overlays for I.D. Cards using a transparent Hologram film overlay on a digitally printed ID card protects the inks from excessive abrasion and wear, which extends the card life and enhance the security of your ID cards. The holographic overlay prevents alterations to the ID card information and combats copying or duplicating the ID card. The overlays presented here are "peel and stick" transparent Stickers which are manually affixed after the ID card is printed. The size of the overlay is slightly smaller than a standard PVC ID card.
Transparent Hologram ID Card Overlay:
TANATT® Clear ID Hologram (Hologram Overlays, Holographic ID Overlays, Clear Hologram) made for ID Cards protection against fake ID cards and cheap Identifications. Transparent ID Hologram are indeed transparent Hologram and do not abstract the image on ID cards and you can see its Hologram image. ID Hologram are specially sized for ID Cards (Identification Cards) and are pressure sensitive, self adhesive Hologram. Just remove paper liner to activate adhesive and apply ID Hologram over your ID cards! Packguard Holographic ID Overlays are the best solution for ID Card Protection.
Transparent Hologram ID Card Overlay is transparent, self adhesive Stickers for use over identification cards, employee badges, and any other cards subject to tampering and/or forgery.
The size, thickness, security holographic image, security hologram technologies and top printing of transparent Hologram ID Card Overlay can be customized for unique requirements.
Custom Holographic ID Overlays:

An overlay with a custom origination of your company name/logo offers the most security for your ID cards. After creating a custom security-grade origination (dot matrix or 2D/3D) for your company/organization, the design is registered with the IHMA global registry. The overlay is constructed in one layer. The Hologram is embossed on 25 micron, 50 micron and 100 micron thick special polyester film. After embossing, a permanent acrylic adhesive is applied over the Hologram. The overlay is then die cut to size. Total thickness is 30 micron (20 micron polyester + 10 micron adhesive). This product is available in "peel & stick" Stickers for easy application.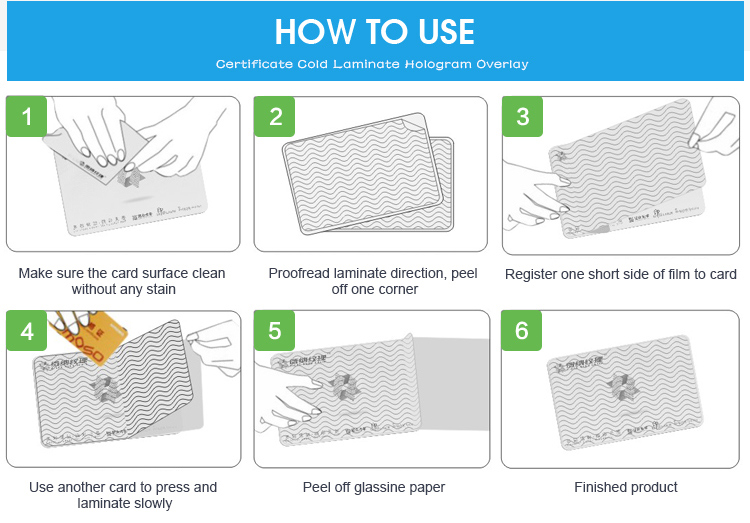 Type of Master Origination of Hologram ID Card Lamination

DOT-MATRIX Hologram

2D/3D Hologram

Flip-Flop Hologram and Kinetic movement in Hologram

Standard and custom pouches are offered with the following features:

1. Material type: typically 4/6 (40% film / 60% hot melt adhesive) = 100 micron thickness.

2. Material thickness: 37 micron, 50 micron, 70 micron and 100 micron

3. Sizes: standard credit card, driver licenses, business card, military card , luggage tag, jumbo, custom sizes